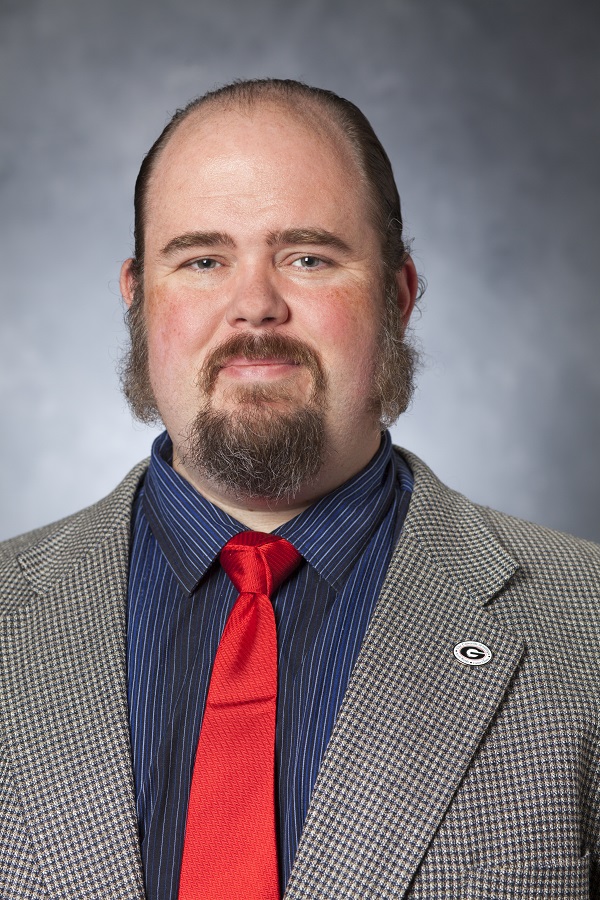 Courses Taught

FDST 4250/6250-4250L/6250L - New Food Product Development
FDST XXXX - Sensory Analysis (Course & number to be developed)
Description of Research Interests
Research primarily focuses on the effects of processing of food and food ingredients, particularly as it relates to flavor, texture, and other organoleptic properties. This includes the use of processing to eliminate or reduce undesirable properties in byproducts, modification of ingredients or foods for better functionality, and the development of novel ingredients for use in various products

Selected Recent Publications
Snyder SM, Zhao BX, Luo T, Kaiser C, Cavender G, Hamilton-Reeves J, Sullivan DK & Shay NF. 2016. Consumption of Quercetin and Quercetin-Containing Apple and Cherry Extracts Affects Blood Glucose Concentration, Hepatic Metabolism, and Gene Expression Patterns in Obese C57bl/6j High Fat-Fed Mice. J Nutr 146(5):1001-1007.  

Jung J, Cavender G, Simonsen J & Zhao YY. 2015. Investigation of the Mechanisms of Using Metal Complexation and Cellulose Nanofiber/Sodium Alginate Layer-by-Layer Coating for Retaining Anthocyanin Pigments in Thermally Processed Blueberries in Aqueous Media. J Agric Food Chem 63(11):3031-3038.  

Jung J, Cavender G & Zhao YY. 2015. Impingement Drying for Preparing Dried Apple Pomace Flour and Its Fortification in Bakery and Meat Products. Journal of Food Science and Technology-Mysore 52(9):5568-5578.  

Cavender GA. 2014. Food Processing and Packaging. In: Neff, R. (editor). Introduction to the Us Food System: Public Health, Environment, and Equity. John Wiley & Sons. p. 317-344. ISBN: 978-1-118-06338-5  

Jung J, Cavender G & Zhao Y. 2014. The Contribution of Acidulant to the Antibacterial Activity of Acid Soluble Α- and Β-Chitosan Solutions and Their Films. Appl Microbiol Biotechnol 98(1):425-435.  

Walker R, Tseng A, Cavender G, Ross A & Zhao YY. 2014. Physicochemical, Nutritional, and Sensory Qualities of Wine Grape Pomace Fortified Baked Goods. J Food Sci 79(9):S1811-S1822.

Zhong Y, Cavender G & Zhao Y. 2014. Investigation of Different Coating Application Methods on the Performance of Edible Coatings on Mozzarella Cheese. LWT - Food Sci and Tech 56(1):1-8.  

Ma Y, Kerr WL, Cavender GA, Swanson RB, Hargrove JL & Pegg RB. 2013. Effect of Peanut Skin Incorporation on the Color, Texture and Total Phenolics Content of Peanut Butters. J Food Process Eng 36(3):316-328.  

Cavender GA & Kerr WL. 2013. Microfluidization of Full-Fat Ice Cream Mixes: Effects of Gum Stabilizer Choice on Physical and Sensory Changes. J Food Process Eng 36(1):29-35.  

Acosta K, Cavender G & Kerr WL. 2011. Sensory and Physical Properties of Muffins Made with Waxy Whole Wheat Flour. J Food Qual 34(5):343-351.  

Cavender GA & Kerr W. 2011. Inactivation of Vegetative Cells by Continuous High-Pressure Processing: New Insights on the Contribution of Thermal Effects and Release Device. J Food Sci 76(7):E525-E529.